Clothes make the man, Children make clothes
Over 10 million children work in India. Their starvation wages all too often ensure that we here in Germany can enjoy cheap fashion and other consumer goods. For this reason, Germany, which takes over the Presidency of the Council of the EU on 1 July, wants to draft a European supply chain law that obliges companies to prevent child labour and exploitation throughout the entire supply chain.
Companies such as Adidas, Nestle, Takko, H&M and Co. would then only be able to sell their products on the European market, for example, if they could prove that they and particularly their suppliers pay all workers fair wages and do not exploit children. That sounds very good as an idea and will hopefully achieve the hoped-for goals in practice. Because the truth is that in a globalised world, international supply chains are very complex and difficult to manage. There will always be loopholes. In addition, many children are simply dependent on work in order to survive. If we do not want to force them into even greater misery, education and nutrition programmes must be established at the same time.
We from the IndienHilfe Deutschland e.V. have been following this path for decades and help children to liberate themselves from poverty through school education. In our schools and hostels they study reading and writing, can develop healthily and have the chance to take up a fairly paid job. Thanks to our donors and supporters, we are able to save up to 200 children each year from a fate that consists of daily hard work on construction sites, in quarries, weaving mills, plantations and unofficial factories.
Because even though school attendance is compulsory up to the age of 14 in India, millions of children live in such poor conditions that they never learn to read and write. They are born into terrible misery, have to work off their parents' debts as debt slaves or are sold directly to child traffickers or as domestic help to private individuals. Due to overwork, one-sided movements and malnutrition, their bodies atrophy, their joints break down and many become deaf at a young age due to the noise of machines. In addition, lye and respiratory diseases are caused by dust and toxic fumes. In quarries where, for example, tombstones are also being quarried for the German market, children work from the age of 5 - with an average life expectancy of 30 years.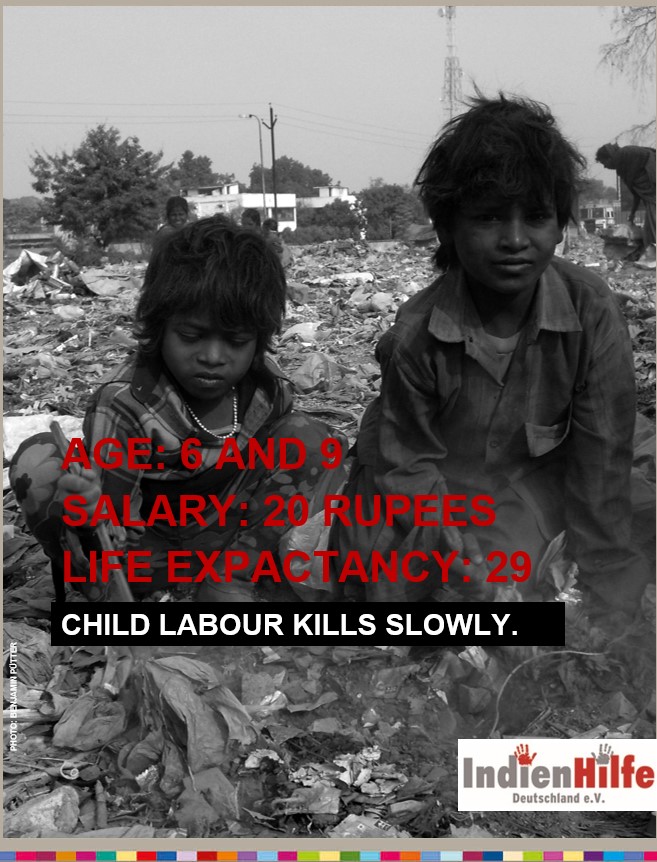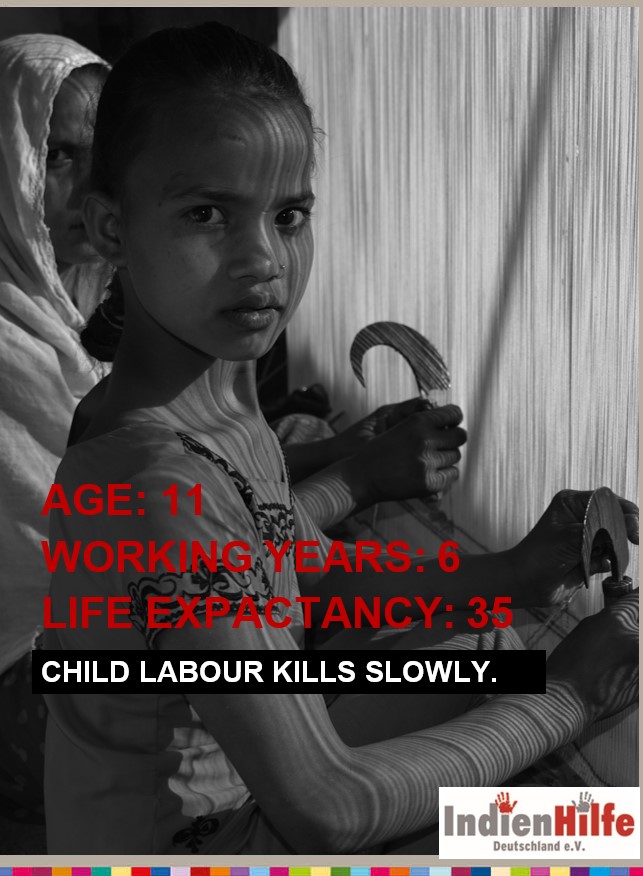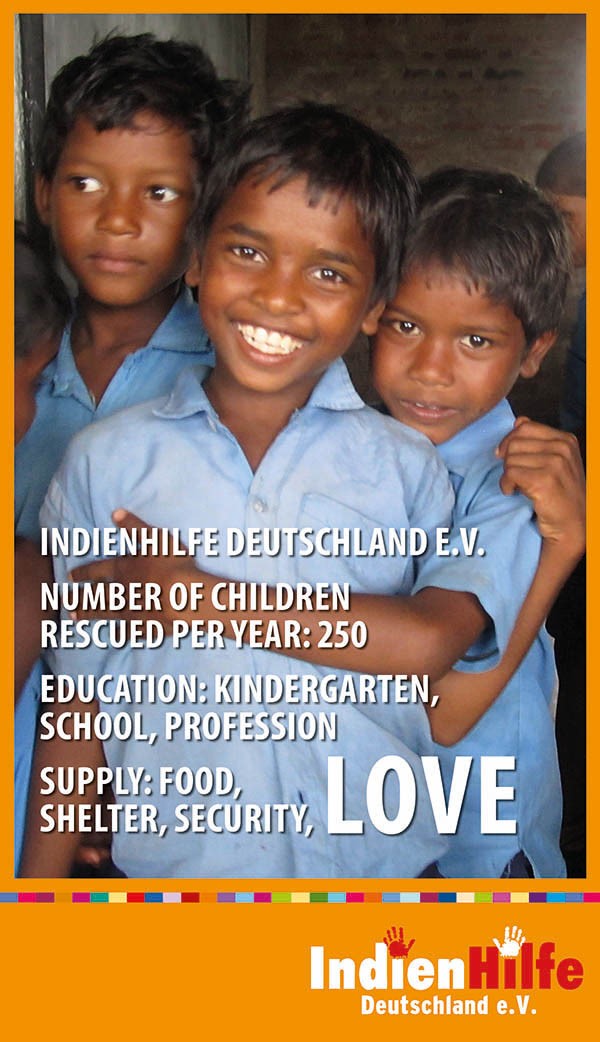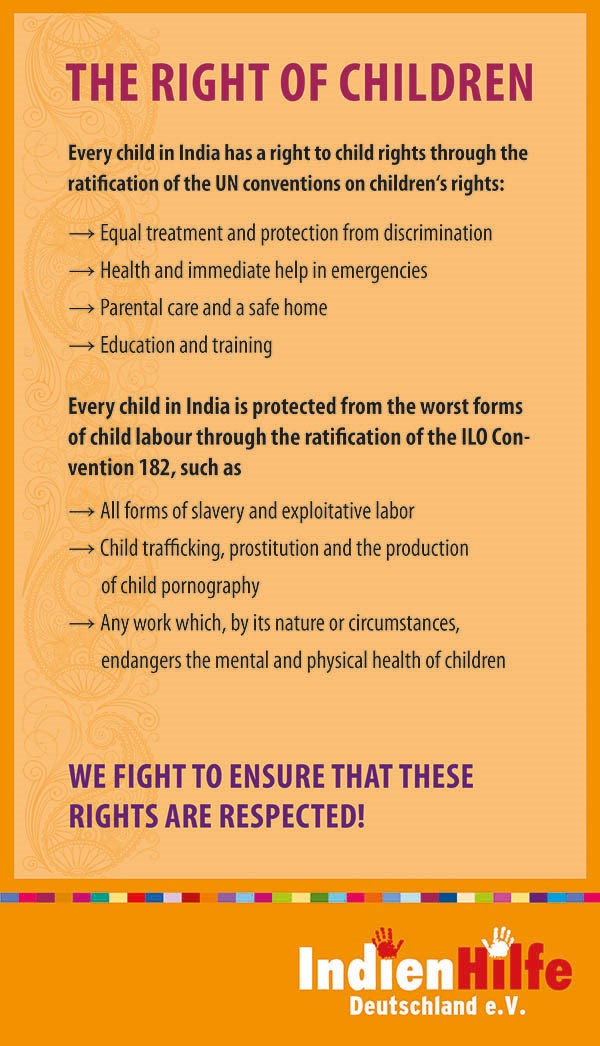 India has been trying for years to remedy these appalling conditions. For example, it is forbidden by law to employ children under the age of 14 in factories, in mining or in other dangerous occupations. The problem: 90% of all workers throughout India work in the unofficial sector anyway, which is difficult to monitor. There are no employment contracts, trade unions or employee representatives. Corruption and exploitation are widespread.
The only way out of this plight is and remains education. The children of IndienHilfe Deutschland e.V. study until the age of 16, receive a highly respected school leaving certificate at our local Catholic partner schools and can even complete a vocational training later on. As adults they will be able to feed their own children and enable them to attend school. In this way, we are not only saving a child from poverty, but entire families over generations.
We hope that the planned supply chain law will improve the situation of children. Until it does, every consumer should look carefully at what they buy. A T-shirt for 5 euros is no reason to be happy - it is evidence of exploitation.
If you would like to help, then please take over a child sponsorship of the IndienHilfe Deutschland e.V. For 22.- € per month you give a child the chance of a self-determined life.
Here you can easily become a sponsor.